Why your Business Should be Listed on 'Google My Business'
What is 'Google My Business'?
'Google My Business' (otherwise known as 'GMB') is a free tool that allows you to manage how your business looks on Google Search and Google Maps. This includes adding your business name, location, and hours; as well as photos. It also allows you to monitor and reply to customer reviews which increases the bond you have with customers/clients. Finally, you can learn where and how potential customers are search for you; as well as much more!
If you are just starting with local and close SEO then 'Google My Business' is an excellent place for you to focus your efforts on and get started with. One way to think about it is…when people are searching for a product or service near to where they are based, they are usually on the verge of making a purchase. Research proves that one in two people who search locally visit a store that day. This proves to you how important it is that the information about your business is accurate, complete, and optimized when people search Google.
How to Create a 'Google My Business' Listing
1. Log into the Google Account that you would like to be linked with your business. If you do not have a Google Account, creating one is incredibly easy and clear to complete. It is recommended to have a Google Account that is relevant to the business, not just a personal one.
2. Once you have logged in, the next step is to head to google.com/business and select "Start Now" in the top right-hand corner. This will direct you to the following stage.
3. Next, enter your business' name. Below is an image of what should display. Once you have entered your business' name, click "Next".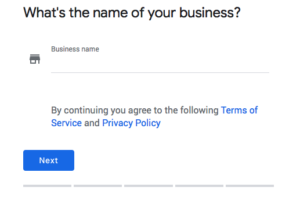 4. Now, enter where your business is located. It is recommended that you are specific as this is where customers will direct to make purchases/use your services.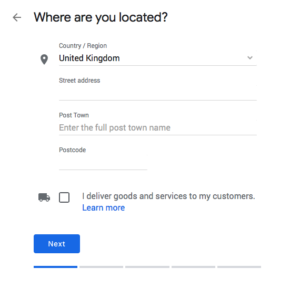 5. Follow the steps until you reach where you need to select your business category. Be selective about what category you choose as it is ideal to be as accurate as possible. When selecting your business category, you are more or less telling Google what customers you would like to see your business listing.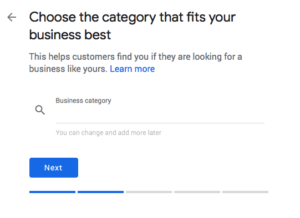 6. Next, you need to add your business telephone number and website. This will enable potential customers or clients to contact you if needed and browse your site which equates to more traffic. Even though you do not have to add both these pieces of information, it is recommended that if possible you do! If you do not have one of these pieces of information presently, then you can add it at a later date.
7. Finally, select a verification option. If you are not ready to verify your business…no problem! Just click "Try A Different Method" and then "Later".
How to Optimize Your 'Google My Business' Profile
After you have completed this process, it is time to make your 'GMB' look pretty!
1. Go onto your 'Google My Business' dashboard and select the listing that you would like to work on. Click "Info" and then click the pen icon which will enable you to work on a section that you decide upon.
2. It will really help if you add as much information and imagery as you can. This will make your business look more legitimate and professional. Through 'GMB' anyone viewing your listing can "Suggest an edit", hence why it is important to get everything right the first time!
3. At any point, you can log into your 'GMB' dashboard and "Apply" any changes you would like to make. This is handy if you change offices, phone number etc. as at any point you can show potential clients and customers up to date information!
Why it is Important to Include Images on your Listing
From research conducted by Google, "businesses with photos see 35% more clicks to their website" and also "42% higher requests for driving directions in Google Maps". It is clear that consumers like to do as little work as possible to find your business' information. The easier you make it for them, the more traffic you will receive!
It is recommended that images should be at least 720 pixels wide by 720 pixels high in either JPG or PNG files. These should be your cover image and profile image. The cover image is the most important as this appears in the center of your listing. The profile picture, not as important but still necessary, appears when you upload a new post which could include videos, review responses or images.
Thank you for reading this article. If you need any further information please contact us, we are happy to help in any way we can!